BASEBALL WITH A LATIN BEAT: A History of the Latin American Game
WINNER OF 1994 MACMILLAN-SABR BASEBALL RESEARCH AWARD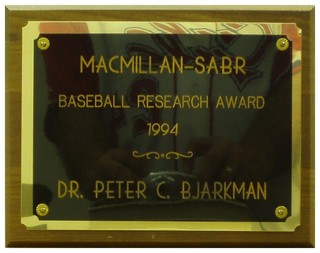 PAGE CURRENTLY UNDER REVISION
"With its intimate portrait of the top Latino stars, its detailed history of Latinos in the majors and baseball's evolution in Latin American countries, and its detailed historical appendices, this book is the unrivaled definitive history of the Latino invasion of the North American pastime." — Anonymous reviewer on www.amazon.com webpage
Since Cuba's Esteban Bellan made his debut for the Troy Haymakers of the National Association in 1871, Latin Americans have played a large role in the major leagues. Nearly 15 percent (1994) of big league rosters are made up of Latinos, while the region's colorful and competitive winter leagues have been a proving ground for up-and-coming major league players and managers. Early Latin American stars were barred purely because of the color of their skin from playing in the major leagues. Players such as Jose Mendez and Martin Dihigo (the only player elected to the U.S., Cuban and Mexican halls of fame) made their marks on the Negro leagues, turning the circuit's barnstorming tours into major attractions in many Caribbean countries. The history of the players and events that make up the rich tradition of Latin American baseball gives a unique insight to this long-neglected area of baseball.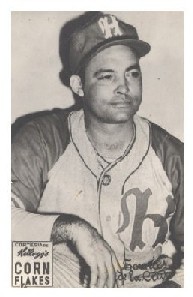 Chapter 7 of Baseball with a Latin Beat breaks new ground by uncovering the pioneering yet forgotten integration role of Afro-Cubans like Tommie de la Cruz, who first cracked MLB's racial barriers several years before Jackie Robinson's celebrated 1947 debut season. This landmark chapter sets the record straight about how dozens of Latin pioneers or African descent crossed major league baseball's odious color barriers in the decades before Robinson and pioneered the way for the multitude of Latino stars of the second half of the twentieth century.
TABLE OF CONTENTS

Part I: Peloteros in Paradise: The Latin American Invasion of the Major Leagues
Chapter 1 - Dolf Luque, Baseball's First Hispanic Star
Chapter 2 - Juan Marichal, Latin America's Unmatched Hall-of-Fame Hurler
Chapter 3 - Roberto Clemente, Hero of an Island Nation
Chapter 4 - Send in the Scouts: Big League Teams Exploit the Caribbean Connection
Chapter 5 - Dodgers with a Latin Beat
Part II: Tales from the Tropic of Baseball
Chapter 6 - Doubleheaders on the Dark Side of the Moon: Negro-League Barnstorming and Caribbean Heroes of the Blackball Era
Chapter 7 - Cuban Blacks in the Majors Before Jackie Robinson
Chapter 8 - "The Comet" and "The Maestro": Legacies of Blackball's Lost Caribbean Stars
Chapter 9 - Pan America's Diamond Mind: Birthrights of the Caribbean National Game
Chapter 10 - No Dragons, Only Shortstops: Sagas of Caribbean Winterball
Part III: Appendices
A: Latin American Baseball Chronology - Greatest Moments in Latin American Baseball History
B: Complete Roster of Latin American Major League Players, by Nationality
C: Chronological Listing of Latin American Major Leaguers (1871-1992)
D: All-Time Latin American Big-League Leaders and Record Holders
E: Winter League Records (Cuba, Dominican Republic, Puerto Rico, Venezuela, Mexico)
F: Latin American Major League Managers and Coaches
Roberto Clemente (Puerto Rico) was the first Latino to be enshrined in Cooperstown, inducted only months after his tragic death in a plane crash on New Year's Eve, 1972. Over a stellar 18-year career (all with the Pittsburgh Pirates) Clemente captured four batting titles, amassed an even 3,000 base hits, won 12 Gold Gloves, and set a new standard for most years (5) leading the National League in assists. He was also easily the most colorful outfielder of his era and an inspiration to generations of Hispanic stars to follow in his footsteps. As noteworthy as were his achievements on the field, Clemente will always be best remembered for his outspoken pioneering stance on behalf of black and Latino big leaguers.

Orestes "Minnie" Miñoso (Cuba) was a slashing hitter and daring base runner who put the "Go-Go" in the fifties-era Chicago White Sox clubs branded with that moniker. Arriving in the majors when already 28, he made appearances in five decades and amassed just short of 2,000 hits along the way (mostly with Chicago and Cleveland). And like Clemente, Miñoso was as a genuine inspiration to all black Cuban and Latino big-league hopefuls of his era. A late start due to the 1940s color barrier robbed Minnie of Cooperstown-like numbers, as did the several ill-timed trades back and forth between the Indians and White Sox that short-changed him on a World Series stage in both 1954 (Cleveland) and 1959 (Chicago).

Luis Aparicio (Venezuela) defined base stealing in the fifties and sixties with nine straight AL crowns in that department (1956-1964). Equally renown as a stellar defender and dangerous spray hitter with both the White Sox (twice) and Orioles over an 18-year AL career (finishing with the Red Sox), Aparicio was the first of his Venezuelan countrymen to earn a slot in Cooperstown (1984). He captured nine Gold Gloves in his storied career and led junior circuit shortstops in fielding percentage every season between 1959 and 1966 (eight straight years). Bill James wrote: "Aparicio's defensive statistics are probably the best of any shortstop before Ozzie Smith…the two men are comparable and the best I have ever seen."

Juan Marichal (Dominican Republic) is celebrated for his high-kicking mound delivery described by one erstwhile poet of the press box as reminiscent of "a cobra mesmerizing a mongoose." Over sixteen Hall of Fame seasons "The Dominican Dandy" rang up a 243-142 record and logged 2303 Ks. But today he is still recalled above all else for an August 1965 brawl in which he attacked helpless Dodgers catcher John Roseboro with his flailing bat. Marichal was equally ill-starred by the historical fact that his stellar career overlapped with those of Koufax and Gibson, a piece of bad timing which undoubtedly cost him a handful of potential Cy Young trophies as well as a much wider reputation as the showcase hurler of his era.

Tony (Pedro) Oliva (Cuba) was the big-league moniker of Pinar native Pedro Oliva, who used his brother's passport to flee the island in the wake of Fidel Castro's takeover. An immediate sensation on the big league scene, Oliva was the first in history to pace the league in hitting in his first two big league seasons. His sensational 1964 debut also featured an American League rookie record for base hits and earned "rookie of the year" honors. Only a premature retirement in 1976 due to knee problems likely ruined Oliva's chances of Cooperstown enshrinement. His legacy nonetheless contains 220 homers, nearly 2000 hits, and a fraction under 1,000 RBI. It was the failure to reach the last two plateaus that shut the doors to Valhalla.

Luis Tiant (Junior) was as noteworthy for his pirouette pitching motion and his post-game cigars but his one-field achievements are more than a match for his niche in popular culture. Winner of 229 big league games (the bulk earned with Cleveland and Boston) "Little Louie" remains the all-time big league strikeout king (2,416) among Latin American hurlers. He posted four 20-win seasons and twice led the junior circuit in ERA and in shutouts. His diminutive lefty-throwing father—Luis Eleuterio Tiant—earned his own substantial fame in the 1930s-1940s era in the Cuban winter circuit on on North American blackball barnstorming diamonds. The younger Tiant's true moment will remain the eye-popping 1.91 ERA he rang up for the Cleveland Indians during the hit-starve 1968 American League campaign.

Orlando "Cha Cha" Cepeda (Puerto Rico), son of island blackball legend Perucho Cepeda, broke in with the San Francisco Giants as 1958 National League rookie of the year. By the time his hall of fame career (elected 1999) had wrapped up 2,124 games and 17 seasons later he ranked (with Tony Pérez) as the all-time Latino big-league home run king (379, since surpassed by Sosa, Palmeiro and Canseco), boasted an NL MVP season (1967) with the St. Louis Cardinals, and better than 1300 RBI. His unanimous MVP selection in 1967 was the first achieved by a National Leaguer in more than three decades (the last being Carl Hubbell in 1936).

Tony (Tany) Pérez (Cuba) was a mainstay of the celebrated Cincinnati "Big Red Machine" ball clubs of the mid-1970s, though he was often lost in the glow of teams such as Pete Rose, Joe Morgan, Dave Concepción and Johnny Bench. His delayed Cooperstown induction in 2000 made him the first of his Cuban countrymen to enter the Hall via the normal balloting process. Pérez ended his career tied with Cepeda for the career home run mark among Latinos (since obliterated by Sammy Sosa), but far outstripped Cepeda in both career hits (2,732) and RBI (1,652). It was his skill at driving home base runners that earned his colorful moniker as Cincinnati's "Big Doggie."

Vic Power (Pollet) (Puerto Rico) was not only one of the game's greatest fielding first baseman with seven consecutive Gold Gloves in the fifties, but also one of the flashiest defensive stylists in baseball history. With his flamboyant one-handed fielding style and free-swinging offense Power was largely responsible for the "showboat" image of the first flood tide of Latino ballplayers reaching the big time in the wake of Jackie Robinson. His black skin and Latin heritage also delayed his major league arrival with the New York Yankees, who "lily-white-thinking" management originally signed him and then buried him in the minors for several seasons before trading him to the Philadelphia Athletics.