SPORTS BOOKS FOR YOUNG ADULT READERS
PAGE CURRENTLY UNDER REVISION
In the decade of the 1990s Peter Bjarkman produced a number of sports biographies and related sports titles (baseball and basketball) designed for young adult readers, and all these titles are still found for sale on various internet book marketing services. Two of these titles were noted for special distinction.
Chelsea House Baseball Legends Series

The original Chelsea House Publishers "Baseball Legends Series" provides biographies for young adult readers of baseball's greatest Hall of Fame icons. The volumes, while designed for teenaged readers, nonetheless offer captivating portraits guaranteed to appeal to baseball lovers of all ages. Each book contains fascinating information about pivotal games that helped shape a player's career. All volumes are also filled with black and white photographs and include summary career statistics.

Roberto Clemente, Baseball Legend (1991)
Roberto Clemente was one of the most complete players ever to lace up a pair of spikes...Thus began Clemente's struggle to win recognition for himself and other Hispanic players in the majors. He finally broken through in the early 1960s, when he became the first Puerto Rican to achieve superstardom. All told, he four four National League batting titles and 12 Gold Glove Awards, played in 15 All-Star Games, and was voted the National League Most Valuable Player in 1966 and the World Series MVP in 1971. When he recorded his 3,000th career hit in his very last game, he became only the 11th player ever to reach that mark.
A New York Public Library Selection in 1992 among "Books Recommended for Teenaged Readers"

Ernie Banks, Baseball Legend (1994)
Born in 1931, Banks began playing semipro ball while still in high school and went on to star with the Kansas City Monarchs of the Negro American League. Making his major league debut with the Chicago Cubs in 1953, he became the hardest-hitting shortstop anyone had ever seen. Banks reached his peak in 1958 and 1959, when he tore up National League pitching and became the first National League player in history to win the MVP Award two years in a row. By the time he retired in 1971, after 19 brilliant seasons, Banks had amassed 512 home runs and 1,636 RBIs.

Warren Spahn, Baseball Legend (1995)
The number one lefthander in baseball history, Warren Spahn chalked up 363 vistories over a 21-year big league career...Spahn made his first big league start in 1946, at the age of 25. He achieved his first 20-win season in 1947 and became a model of consistency and durability, winning 20 or more games 13 times and posting 63 shutouts. He pitched two no-hitters after the age of 39 and enjoyed one of his best seasons at the age of 42, winning 23 games and losing only 7. A tenacious battler in the clutch, Spahn sparked his team to three National League pennants and took part in some of the most-packed games in World Series history.

Duke Snider, Baseball Legend (1994)
After a hitch in the navy and some seasoning in the minors, he won the Dodgers' center field job in 1949 and became a favorite of the legendary Brooklyn fans. In addition to hitting 40 home runs for five straight seasons, Snider was a .295 lifetime hitter and ranked consistently among the league leaders in RBIs and runs scored. He enjoyed some of his greatest moments under the intense pressure of the World Series, leading all national Leaguers with 11 career home runs and 26 RBIs in Series play.
Enslow Young Adult Basketball Biographies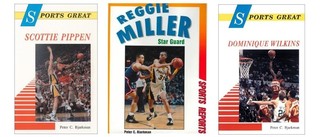 "Sports Great Books" (Enslow Publishers) for reluctant readers are high-interest biographies with easy-reading text about the most exciting sports figures playing today (mid-1990s). Each indexed book contains career statistics, action photographs, and exciting accounts that give readers the feel of the big game. "Fans...will be fascinated with these books, and students will find them useful for reports."—School Library Journal (1994)

Sports Great Scottie Pippen (1996)
Scottie Pippen has helped the Chicago Bulls win many NBA championships...As a member of the 1992 Olympic "Dream Team," Pippen proved that he was among basketball's elite. In 1995, Pippen lead the Bulls in all major offensive statistics. Having emerged from Jordan's shadow, Scottie Pippen has become one the NBA's living legends.

Sports Great Dominique Wilkins (1996)
Dominique Wilkins is the six-foot eight-inch forward who played for the Atlantic Hawks and the Boston Celtics. Wilkins, also known as "The Human Highlight Film" for his exciting style of play, won the NBA Slam Dunk Championship in 1985 and 1990. He set an NBA single-game record for the most free throws without a miss by making twenty-three in a row.

Enslow's "Sports Reports" Series of the late 1990s features more thoroughgoing ballplayer biographies than the earlier "Sports Greats" series for reluctant readers. The publisher promotes this collection of several dozen titles as follows: For the full report on your favorite athletes, the Sports Reports series features lots of game action, exciting features and statistics, as well as a look at the star behind the uniform."

Reggie Miller, Star Guard (1999)
Reggie Miller, the star guard of the Indiana Pacers, has overcome many personal challenges to become one of professional basketball's biggest stars. In college, he became the third leading all-time scorer for the University of California at Los Angles (UCLA). Throughout an entire decade with the Pacers, he has led the team in scoring and carried the team to three NBA Conference Finals. As a star on two United States Dream Teams, he is one of the most talented three-point shooters in pro basketball.
Enslow Young Adult Sports Histories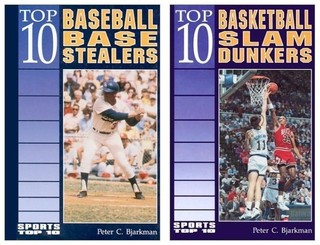 Enslow Publishers' "Top 10 Sports" Series featured more than a dozen titles with such varied topics as Top 10 Basketball Legends (Ken Rappoport), Top 10 Football Receivers (Stew Thornley), and Top 10 Women Tennis Players (Denis J. Harrington). Aimed at ages 9-15, each book in this color series for reluctant readers describes ten of the greatest athletes ever to play a particular sport or certain position. All volumes in this series contain fact boxes, career statistics pages, chapter notes, and a useful index.

Top 10 Baseball Base Stealers (1995)
From yesterday's heroes, such as Jackie Robinson, to today's stars, such as Oakland Athletics' speedster Rickey Henderson, the author capsules ten of the greatest base stealers in the history of professional baseball. Profiled here are: Luis Aparicio, Lou Brock, Ty Cobb, Eddie Collins, Rickey Henderson, Kenny Lofton, Joe Morgan, Tim Raines, Jackie Robinson and Maury Wills.

Top Ten Basketball Slam Dunkers (1995)
From yesterday's heroes, such as the Sixers' Julius Erving, to today's stars, such as the Bulls' Scottie Pippen, author Peter C. Bjarkman looks at ten of the greatest slam dunkers in the history of professional basketball. Profiled in this volume are: Charles Barkley, Darryl Dawkins, Clyde Drexler, Julius Erving, Darrell Griffith, Connie Hawkins, Michael Jordan, Shawn Kemp, Scottie Pippen and Spud Webb.
Selected by both YALSA (Young Adult Library Association) and ALA (American Library Association) as one of the 76 1997 titles designated as "YALSA Quick Picks for Reluctant Readers"