Cuba's Baseball Defectors: The Inside Story
"Peter Bjarkman is the ultimate chronicler of Cuban baseball. His latest book takes an inside look into the wave of player departures that has rocked the game both in Cuba and the U.S., while providing historical perspective on the complicated relationship between the countries." — Jorge Ortiz, Columnist for USA Today

WINNER OF 2016 SABR BASEBALL RESEARCH AWARD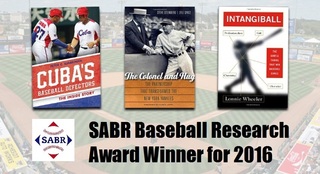 BOOK SYNOPSIS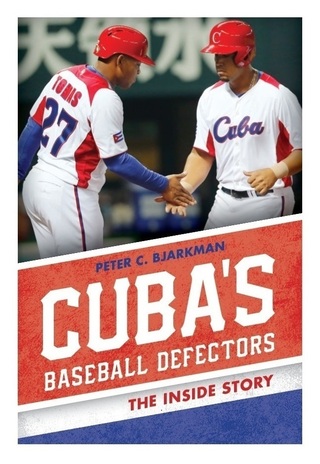 The stellar play and fascinating backstories of exiled Cuban sluggers and hurlers in Major League Baseball (MLB) has become one of the biggest headlines in America's national pastime. On-field exploits by colorful Dodgers outfielder Yasiel Puig, American League rookie-of-the-year José Abreu, home run derby champion Yoenis Céspedes, radar-gun busting Cincinnati fast-baller Aroldis Chapman, and a handful of others have been further enhanced by feel-good tales of desperate Cuban superstars risking their lives to escape Fidel Castro's communist realm and chase a celebrated American Dream of financial and athletic success. But a truly ugly underbelly to this story has also slowly emerged, one that involves human smuggling operations financed by Miami crime syndicates, operated by Mexican drug cartels, and conveniently ignored by big league ball clubs endlessly searching for fresh waves of international talent.
Acknowledgments
Prologue
1 The Essence of "Puigmania"
2 Cuba's Hidden Beisbol Paradiso
3 Sugar Cane Curtain Fiascos
4 Ninety Miles of Sea, One Hundred Miles of "Heater"
5 Brothers in Exile
6 "The Best There Ever Was"
7 No Reservations for Cuba
8 Go East, Young Men, Go East
9 The Unsustainable Dream
Epilogue
Appendix 1: 193 Cuban-Born Major Leaguers
Appendix 2: Cuban baseball Defectors
Notes
References and Sources
Index
About the Author
CRITICAL PRAISE
"Nobody knows more about the intertwining of politics and baseball in Cuba than Peter Bjarkman — he is the dean of information on this topic. Bjarkman has traveled to Cuba for many years and has formed relationships with officials in both these areas." — Omar Minaya, Senior VP of Baseball Operations, San Diego Padres
"Bjarkman writes expertly of the raiding of local talent and the rapid thawing of political wills of America and Cuba, and he proclaims that the proud island 'will steadfastly remain the jealous owner of its domestic baseball destiny.'" — Publishers Weekly (May 2016)
"As usual, Peter Bjarkman is the go-to guy for the best information about all things baseball cubano. He has seen these players long before most of us ever heard their names. This is a fabulous read!" — Eric Nadel, award-winning radio announcer for the Texas Rangers
"This is the book we fans of Cuban baseball have been waiting for! Insightful, intriguing, and filled with invigorating stories. Author Peter Bjarkman bats 1000 with this one!" — Byron Motley, author/photographer of Embracing Cuba
"Cuba's Baseball Defectors is a detailed account of the hundreds of players that have left the island over the past quarter century and decimated the country's powerhouse national teams. But more important, it is an up-to-date narrative of the role baseball plays in the new political dynamics between the United States and Cuba. This is a must-read book for anyone interested in contemporary Cuba." — Milton Jamail, author of Full Count: Inside Cuban Baseball
"Peter Bjarkman is the ultimate chronicler of Cuban baseball. His latest book takes an inside look into the wave of player departures that has rocked the game both in Cuba and the U.S., while providing historical perspective on the complicated relationship between the countries." — Jorge Ortiz, USA Today
"Peter Bjarkman is the only authoritative commentator on baseball in post-revolution Cuba. Cuba's Baseball Defectors combines scholarship and the author's insights gained from his close personal ties to Cuban players, officials, and ordinary Cubans. Defectors is not only a great book about Cuban baseball, but an important book about contemporary Cuba." — Kit Krieger, Cubaball Tours
"No American understands baseball's role in Cuba better than Peter Bjarkman, and in Cuba's Baseball Defectors he is our guide behind the headlines. With a historian's eye, he both charts the game's past and explains why baseball matters to anyone seeking a deeper understanding of Cuba today." — Ben Strauss, coauthor of Indentured: The Inside Story of the Rebellion Against the NCAA
"Daring, honest, exceptional … Peter C. Bjarkman has written a must-read primer for anyone considering the truth behind Cuban baseball's impact on Major League Baseball. Read this book and learn from one of the best." — Ray Otero, director of BaseballdeCuba.com

"Peter Bjarkman once again shows why he is the preeminent expert on Cuban baseball outside of the island itself. The origins of this work began many years before the latest stars appeared on the scene and Cuba once again became trendy. There is great value in one man dedicating his work to one topic, and we all benefit from the enterprise." – Daniel Trotta, journalist and Reuters chief correspondent in Cuba 2014-2016