THE BIOGRAPHICAL HISTORY OF BASKETBALL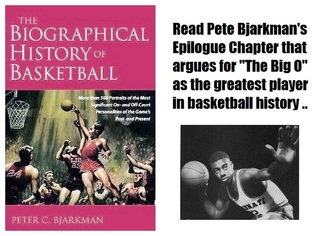 BOOK SUMMARY AND CONTENTS
Basketball, unlike its counterparts in baseball and even football, hockey and tennis to a lesser extent, does not respect and revere its rich history. Too many "fans" today think the game started with Larry, Michael, Magic and Shaq. But the truth is, without mostly forgotten basketball men like Mikan, Luisetti, Holman, Lambert, Meanwell and many others, there would be no game as we know it today. Peter Bjarkman's Biographical History of Basketball sets out to rectify this oversight with over 500 incisive portraits of basketball's well-known and more importantly, lesser-known significant contributors to the game's history. Included is also an insightful look into why the game has become the national pastime, at least for the under-35 set, by examining basketball's one on one aspects. Its ability to have a single player affect the action more than in other team sports, as well as our society's increasing need to make heroes out of individuals in these often confusing, leader-less times, has made the game even more appealing. Most of the book's importance lies in its homage to the forgotten, underappreciated past of hoops as it recounts A-to-Z the overlooked men (and women) of the game from Bevo Francis to Dave Zinkoff. But it also traces the game's roots from the early barnstorming era to college basketball's heyday and the evolution of the game from "hardwood to hangtime." The Biographical History of Basketball is a lively, fun and informative look into how the game has moved from a loosely organized, dimly-lit past to status as perhaps the world's most popular sport by one of the nation's most prolific and knowledgable sports writers, Peter Bjarkman. — One Reviewer posting on www.amazon.com

The Biographical History of Basketball gives readers a much-needed antidote to basketball's historical amnesia. Author Peter C. Bjarkman presents entertaining and fact-filled career summaries of the sport's greatest players, its groundbreaking coaches and administrators, and its other often-forgotten and less-publicized figures who authored developments crucial to basketball's century-long evolution. While baseball buffs can cite chapter and verse for the diamond sport's most memorable events and personages, basketball fans often have little collective memory of the game's past milestones and heroes, especially those from the nine decades preceding Michael Jordan, Larry Bird and Magic Johnson. The Biographical History of Basketball sends readers on a nostalgic trip through the entire 100-year span of hoops history with personal portraits and little-known facts about the 500 most significant on- and off-court personalities of the game's past and present.

Detailing the feats of the men and women who are responsible for elevating basketball to its current status as the new American national pastime, Bjarkman gives readers a fascinating glimpse into the lives of some of the game's most prominent figures—past and present—including pioneers like James Naismith, Phog Allen, and Doc Meanwell; on-court innovators Hank Luisetti, George Mikan and Bob Cousy; legendary Hall of Famers Oscar Robertson, Wilt Chamberlain, and Red Auerbach; and modern-era idols Michael Jordan, Shaquille O'Neal, Bobby Knight and Grant Hill. Aficionados of both the collegiate and professional games will be especially interested in this book's two introductory chapters condensing a century of NCAA history and half-century of NBA annals. And a special treat is the Epilogue's surprising and unconventional argument for Oscar Robertson as the sport's best on-court performer ever.
CRITICAL PRAISE FOR "THE BIOGRAPHICAL HISTORY OF BASKETBALL"
"There is simply no other basketball book out there that provides the same historical richness. Engaging portraits of hundreds of the sport's historical figures are supplemented by concise histories of both college and pro ball and a most useful historical timeline. And the Epilogue arguing for reassessment of the 'greatest player of all-time' is a must read." — Anonymous reviewer, www.amazon.com
PAGE STILL UNDER CONSTRUCTION